Twin sets for babies we love. Because roses are red, onesies are...mustard?
If pink and red are a little too sweet for your taste on Valentine's Day, try some mustard. As in, these gorgeous mustard and cream organic onesies that feature a hip, understated version of hearts and arrows. So cute for twins! Or a singleton who likes options.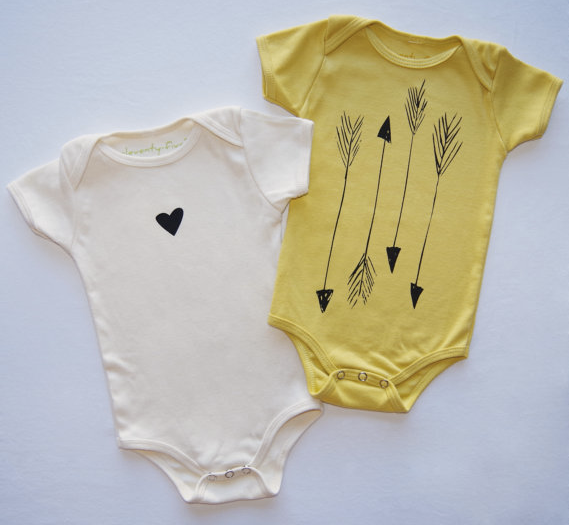 The
Baby Heart and Arrows Gift Set
from eleventyfive on Etsy (don't you love that name?) is an adorable way to celebrate Valentine's Day that's not too cutesy and totally wearable year-round. The set of two 100% organic cotton onesies is hand-printed in Austin, TX using environmentally friendly inks and available up to18m.
And speaking of love and onesies that would be perfect for twins, we're also smitten with their
Elephant and Peanut onesie set
. Same idea, same materials, same sizes. But this time, you get a cinder onesie with a chocolate elephant and a natural onesie with a light brown peanut. For your little peanut. Yes, we all call our kids that. So original, right? -
Delilah
Find More: Baby Clothes