Sometimes a little pampering is in order: the natural indulgence of Tata Harper Skincare
Luxe alert: I was introduced to the 100% natural, nontoxic Tata Harper Skincare at
Canyon Ranch
this summer. It was a moment of seriously posh pampering in my otherwise ordinary life, and an incredibly soothing experience. Luckily, it's a splurge you can enjoy at home--well, minus the aesthetician. So if you know someone who could use some pampering and serious self-care after a long year (including you!), you might just want to give Santa the heads-up.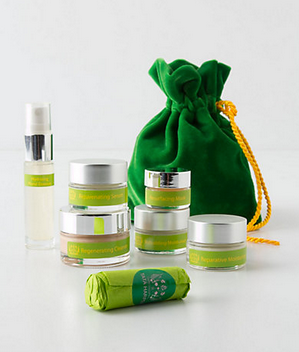 Honestly, I'm hooked on this line, and here's why. For starters,
Tata Harper Skincare
is created using 100%
natural ingredients
that I can pronounce, like willow bark, alfalfa, spanish lavender, and date palm. The line feels amazing, and never heavy on my skin--even when using multiple products. Even the beautifully scented
Replenishing Nutrient Complex
, which goes on like oil, absorbs completely within seconds. So. Nice.
I also love that most of the ingredients that go into the product line come from plants that creator Tata Harper herself grows on her huge Vermont farm. It is here that this mama of two also comes up with all the formulas for her products. (She even manufacturers and packages everything--this company is definitely her baby.)

But--fair warning--all this close oversight, locally sourced ingredients, U.S. production, and careful attention to detail like using more eco-friendly glass bottles versus plastic, means that the prices for individual products are definitely in the premium category. And if you are anything like me, making the jump from the motley mix of low-end products to a full line of high-end lotions, creams, and oils is not an easy one.

This would be my one issue with the line: Not only is it a big mental jump to go from using a couple of random skin-care products at bedtime to a full five-step process, it's an expensive bump, too.

That's one reason I like the
Deluxe Beauty Kit
(at top) as a way to try out a bunch of Tata Harper's products without maxing out the credit card. One kit offers 10-days worth of seven of her yummy-smelling products. Packaged in a green pouch, this would make a special stocking stuffer now, or a great kit to tote along on your next family vacation.



Also check out her

Jet Set Survival Kit

, which includes a trio of my favorite products like the

Aromatic Irritability Treatment

aromatherapy, which I wish I could scent all my breathing space with at this time of the year. If my husband wanted to really surprise me on the 25th, he could wrap this up with a pair of tickets to somewhere warm. Hey, a girl can dream right?

-Christina




Read more about Tata Harper Skincare and purchase products at her

website

. Some of her best-selling products are also for sale at Anthropologie.com and can arrive for Christmas if ordered by 1pm on December 19.

Find More: Beauty Picks and General Hygiene, Organics, Travel and events