Holiday gift tags that make a difference in the lives of hungry kids
One goal that my husband and I have set for our family this holiday season is to give back as much as we possibly can. I think we're all feeling it a bit this year. That's why I love products like these holiday gift tags, which look great and do great things, with all of the proceeds going straight to those who are in need.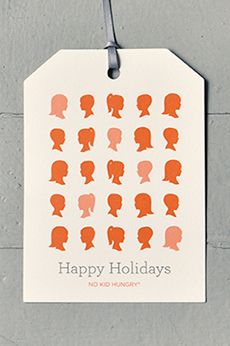 These
holiday gift tag
created by
No Kid Hungry,
are the perfect gift tags or Christmas notes for loved ones. You can choose between two attractive styles. And every purchase gives back--exponentially. Purchase just one card, and you can help provide a kid with up to 100 meals through the outstanding organization, Share Our Strength.
What a simple (and super) way to add meaning and style to a gift or a holiday greeting. -
Kirsten

For your own No Kid Hungry gift tags, donate to Share Our Strength
Find More: Announcements, Invites and Cards, Causes and General Do-Gooding, Holiday Picks