A sweet wooden wonderland for your wunderkind
Silent night?

Yeah, only if your holiday toy choices don't include batteries, drum sticks, or bells.
We've found a beautiful selection of handmade, heirloom quality toys that can help your child create a peaceful, quiet winter wonderland under the tree.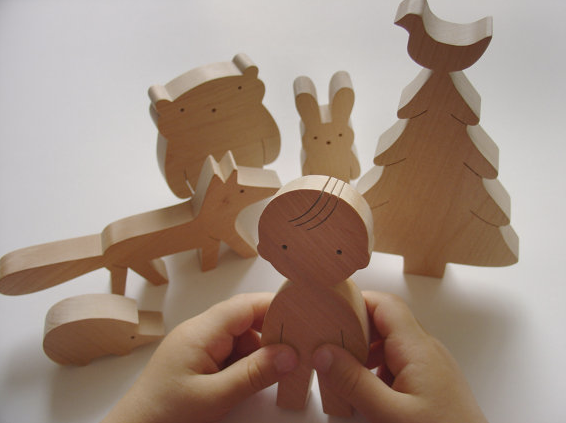 Much like the quiet of a snow-blanketed forest, these handmade wooden toys from Etsy shop
mielasiela
in Lithuania are a breath of fresh air. Each piece is hand-cut and sanded, formed of natural, untreated black alder wood. We love that the designs are original, clearly hand drawn and so delightfully unexpected.
Besides
the boy in the forest,
there's also a little girl with a clowder of cats, a family of penguins, and plenty of adorable animals. They do suggest that these pieces aren't ideal for chewers, so if you're looking for a teething toy, we recommend our long-time favorite, Etsy artisan
Little Alouette
. But for Waldorf families and children who dream of peaceful romps in the forest with their fuzzy friends, this gift will provide years of beauty and joy.
What's that sound? Ahhhh, the sound of silent, non-screechy joy. -
Delilah
Find More: Holiday Picks, Toys and Other Playthings