Nifty holiday gifties at a spectacular price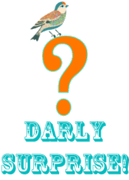 It's not even Black Friday yet, but of course the deals are already starting to roll in. And this particular pick is so special that we have to tell you about every time it comes available. After all, there's nothing we love more than a great deal-- unless it's a great deal on seriously cute stuff.
The
Darlybird Goody Bags
are back at CMP favorite Darlybird. For just $16 + shipping, you get at least $45 worth of eclectic indie finds hand-chosen by Rachel. Earrings, necklaces, bracelets, vintage ephemera, hair bows, cupcake liners, stationery, journals-- you never know exactly what's going to arrive, and that's part of the fun.
It's kind of like a Groupon deal without having to rely on a single other person.
Order quickly, though-- much like a bird's sweet song, these Goody Bags never last. Buy a couple, and you'll have those nifty little one-size-fits-all gifts you can use all holiday season for teachers, coworkers, and friends. Or a whole bunch of stocking stuffers. Just let me order mine first. Heh.~Delilah
Find More: Baubles & Bags, Doodads and Random Bits of Coolness, Holiday Picks