Maternity and nursing lingerie you can live in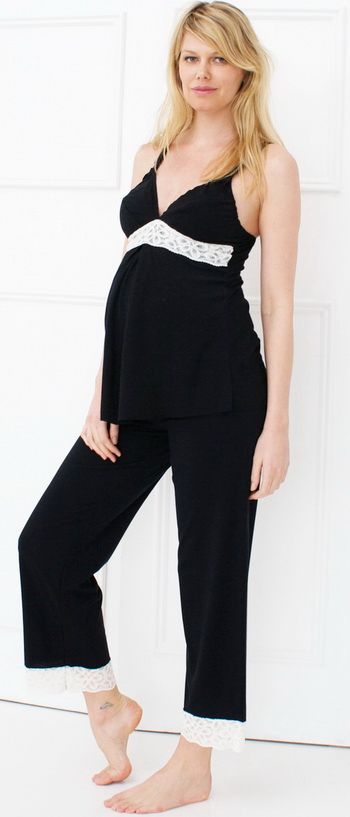 Having just had a baby three months ago, I know oh so well the need to be comfy during pregnancy--especially when you sleep. Forget about getting up to pee every 20 minutes, there's also the issue of sleeping on your back or your side (I'm a tummy sleeper) and let's not forget the muscle aches. So when I slipped into the ridiculously comfy--and yet stylish--maternity lingerie from
Belabumbum
, I yawned with excitement.
I packed a set of Belabumbum's lounge pants and a nursing camisole with me for my hospital stay and lived in the pants the entire time. I had a c-section, so the downy-soft pants were the perfect thing against my scar. In truth, I barely felt like I was wearing any pants because the jersey fabric is so delicate. They were also pretty enough to receive visitors in. (Too bad the rest of me wasn't).
Belabumbum also does adorable
mom and baby sets
, which I usually think are kind of creepy, but they manage to pull it off in a way that's actually chic with pretty prints and kimono styles for baby.
With all the lounging around the house that happens after baby comes home from the hospital, I'd like to think of Belabumbum as a stylish and modern alternative to a house dress. -
Melissa

Shop for stylish maternity and nursing lingerie and lounge wear online at Belabumbum.
Find More: Mama Wear, Maternitywear That Doesn't Suck