Ring-ing in spring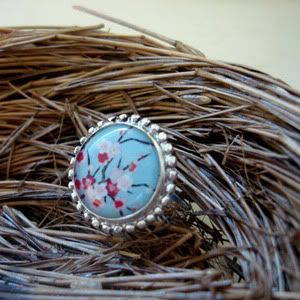 At the top of my go-to accessory list are big chunky rings, mostly because they're cheap, fun, and my kids can't do to them what they'd do to, say, a pearl necklace. If you like the big ring look but aren't really into the costumey stuff, take a look at the one-of-a-kind handmade rings from
Bel Kai Designs
.
Their
sterling silver rings
featuring sweet flower prints are the perfect compromise between lovely and loud. Check out the
Cherry Blossom
(pictured) or the oval
Pink Blossoms
(love those colors!). And while they're bigger than your simple bands or solitaires, they're still fairly dainty.
At less than $35 each, they make the perfect Mother's Day gift with more than enough left over for brunch.
-Kristen
Find unique rings and more at Bel Kai Designs and
get
15% off your purchase with code "CMP" through May 15, 2009.
Congratulations to Marion B, lucky winner of a Bel Kai cherry blossom ring!
Find More: Baubles & Bags