Crawfish Roasting on an Open Fire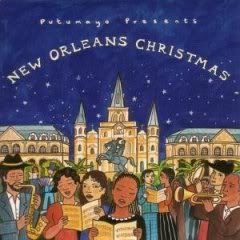 I know there are plenty of Christmas CDs out there these days, but frankly I'm afraid to play half of them for my daughter, for fear that I'll be stuck listening to them every single day for the rest of the year.

But Putumayo's New Orleans Christmas? I'd put it on even in the middle of July. This compilation is a great mix of souful and snappy tunes that you know and love, with fresh Nawlins flavored arrangements -- sort of like celebrating Christmas as if it required sipping a tasty Hurricane while cruising Bourbon Street in a feather boa and beads.
Not that I ever did that.
The album's a wonderful alternative to the more traditional kid's holiday music offerings out there, and you can't beat that Putumayo donates a portion of the proceeds to Habitat for Humanity. Now that's what I call holiday spirit. -Kristen
Find More: Causes and General Do-Gooding, Holiday Picks, Tunes